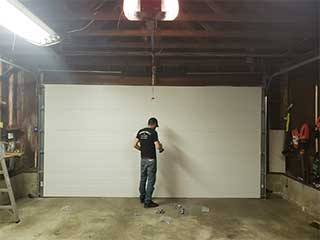 Our team is dedicated to ensuring that if your door develops a problem, you can turn to us for help. We've worked in the industry for more than a decade and we've helped customers with everything from worn out rollers and broken springs to malfunctioning openers. We can help you too; here are just a few of the areas we specialize in.
Fixing Opener Problems
The motor unit is the most complex part of an automatic garage door system, and as such there are plenty of ways it can break down. If your circuit board fails, we can replace it with a new one, and we can do the same if the drive gear wears out. Our team knows how to repair openers of every make and model and can quickly troubleshoot the device, locate the underlying problem and solve it.
Replacing Broken Rollers
These are the parts that help the panels move along the tracks smoothly. If they wear out, become damaged or corroded, they can cause the door to get off track and get stuck. Our team can quickly remove damaged rollers and replace them with new ones - we always bring a supply of replacement parts with us to every job, so you can count on us to handle this type of problem on the spot.
Broken Cable Replacement
Door cables need to be immensely strong, so when they begin to become frayed it's essential to replace them as quickly as possible. Any weakness in these parts is dangerous, as they support the weight of the door. That's why we strongly recommend that you call us as soon as you notice any fraying. It's important to catch these problems early before the cable breaks and potentially causes the door to drop.
Don't Wait To Contact Us
Our team provideshigh-speed emergency repair services, so if you need urgent assistance don't hesitate to give us a call. Our experts at Garage Door Repair Hoffman Estates are always ready to lend every local homeowner a helping hand.
Couldn't find what you're looking for? We also offer:
Track Alignment & Repair
Part Replacement & Repair
Belt Drive Opener Installation
Garage Door Torsion Spring Replacement