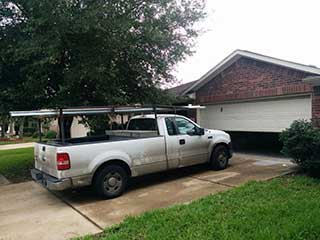 Your garage door is a complex mix of separate components – and if one part becomes faulty, this can derail the whole system. Adequate lubrication isn't just a necessity for keeping your door quiet, it's also crucial if you want the different springs, hinges, rollers and levers to work together properly – and last long into the future.
Put An End To That Noise
Your garage door should open and close quietly and smoothly, and chances are the last time it did that, it was brand new. Most doors become noisier as they age, picking up small squeaks with years of use. When it reaches a screech, however, this can be a sign of an impending shutdown. Don't leave small noises to build to a crescendo.
Keep Your Door Healthy For Longer
If left unattended for too long, small scratches and dents can lead to catastrophe, derailing your door system and leaving you stranded. Lubricating the hinges and rollers will help to keep your door opening and closing smoothly, without grinding or getting stuck. Give these parts a regular light coating of WD-40 every three months for optimal results – but don't go near the opener mechanism. For safety's sake, our technicians have the expertise to advise you on how and when to lubricate your door. You should also always consult your owner's manual to check if the recommended lubricant there is different.
How To Get Rid Of Rust
Your garage door faces the outside world, so it's bound to pick up a bit of dust and grime over time. It may not seem like much, but dirt can creep into cracks and nooks, interfering with many components of your door's inner workings. Wash it away with a mild detergent and lots of water to prevent rust from developing in the springs, along the tracks and between the hinges.
Check What's Right For Your Model
Is your door made from wood or steel? Aluminum or plastic? The materials that make up your system will dictate the kind of lubricant you need, and how often you should apply it. Look for the lubricant that is suitable for the model and make of your door. If you are in any doubt, speak to an expert – we're always happy to help!
For further advice on how to regularly maintain your door, speak to an experienced professional technician. We'll help you decide on the best course of action for your door!